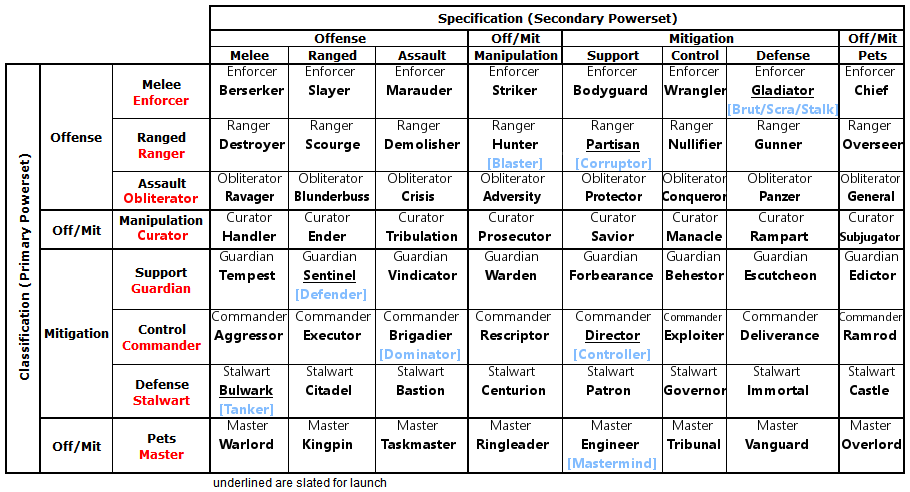 Greetings, honored reader! A lot of you came over here because the title sounds like something big and important is here. Others came over here because it sounds like I'm renovating the Classification and Specification chart on a whim. You would be correct in either case.
You see, eliminating restrictions and giving power and pwnage to the player is all about what the gameplay is supposed to be in CoT, and I noticed how painfully annoying it was in CoX trying to make the hero of my dreams when I can only choose from two groups of powersets in any given archetype. Why blast people from afar when you can't select a defensive power to survive the return fire? Why tank enemies to death when you can't lock them down so you don't get overwhelmed? And furthermore, why summon only 6 minions as a Master when you can have two Pet powersets and summon an entire freakin' army?
Because I had several hours to kill, an overactive imagination, and enough epic-sounding titles rattling around in my skull to fill in every block, (Blunderbuss, what the hell was I thinking?) I decided to update the Classification and Specification Chart so that every possible powerset combination can be chosen by users. I assumed that it shouldn't be that big of a pain to program since all the developers have to do is create a new category, copy and paste powersets/masteries from different groups, and move on to the next one like it's another day at the assembly line. In the event that it's too much of a pain to implement, however, then know that I sympathize with you and promise that many more donors will show up from this alluring proposal.
So, what do you say?