I really think the centerpiece for Halloween Fall scary stuff ought to be the (public domain) Headless Horseman. I already made a post about it.
Even if we do not have quadruped animation by launch, we could update him with a motorcycle. He could be followed by a wailing entourage of floating severed heads all of whom will bite heroes for amazing damage.
--certainly the Massachusetts location for Titan City demands such a villain.
But the Horseman should be only the beginning of creepy late fall villains. Take this guy (below), for instance> he has a LOT more detail that just a zombie or skeleton.
We could encounter this guy in ordinary missions with no hint of the supernatural. He could take players TOTALLY by surprise!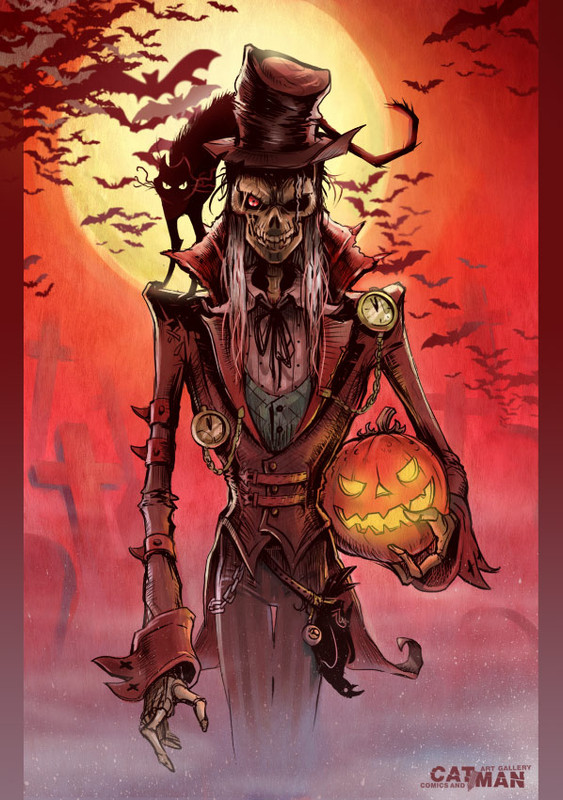 as for Halloween events, COH had trick or treating with temporary costumes as a prize. I like the costumes, but hated the repetitive nature of of the monsters.
Try this on, for example. The lights of the night-time city dim. All of them turning orange. This is not an invasion, but all the street level gangs and criminals are replaced with various monsters, ghosts and ogres. and they would all look as scary and original as the guy above. The headless horseman would ride the streets. Super Criminal street level events would be replaced by super Monsters.
Examples: the Rooks would be replaced by undead Nazi skeletons with machine guns.
another gang becomes a coven of witches boiling people in a flaming kettle. Save the victim. But the witches are rangers, operators and guardians....The coven can summon a stalwart ogre.
Aether Pirates become -undead- winged WWI ace pilots/sans planes
Observant Flying Players can see a flying doghouse with a beagle pilot battling with an undead Red Barron.
Blood drips down the walls of buildings (can we do this with a T for teen ratings?)
Grave stone erupt in every yard. As do Jack-o-lanterns.
By day the city is normal, by night its a horror movie. This doesn't have to be every night, maybe just on Saturdays....
Give me some feedback, or propose an alternative event.
—