Where We Stand - More Moguls!
(Part III, Victory Beach, Firetown District, Garden District and Theatre District in Old Bradford)
We are continuing our series of updates this week with a walk through the neighborhood of Old Bradford. If you missed last week's
update, you can find details about what you are seeing here: https://cityoftitans.com/content/where-we-stand-more-moguls-part-2-new-and-old-bradford
Last week we toured the North / East side of Old Bradford in the New Bradford District. Today we head to the south half of the
neighborhood bordered by Victory Beach way up to the high right side of the map on the outskirts of New Bradford, continuing down
the coast through Firetown, then back inland to the Byrne Park and Theatre District areas. While all of these areas are unique, they
all share the bohemian spirit that embodies most of the Old Bradford neighborhood.
Old Bradford South Side Moguls: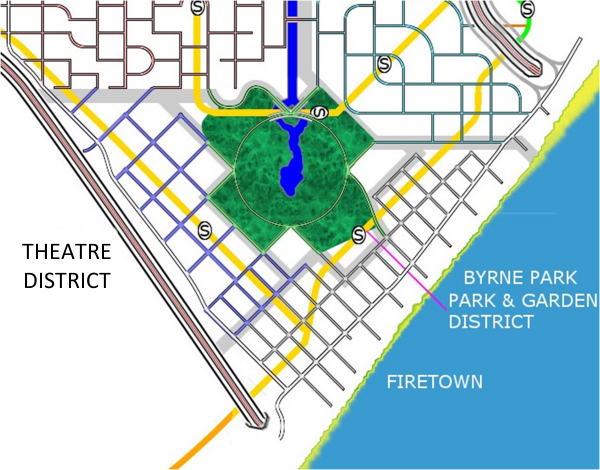 Moguls located in the South Side of Old Bradford:
Several mogul concepts shared by participants in our Kickstarter campaign make a great fit with the eclectic spirt of the
South Side of Old Bradford.
Vrghr King restaurant:
Starting with a walk from Victory Beach into the Old Bradford neighborhoods, you will find some of the most playful bohemian and kitschy
institutions of Titan City. One of the first you will see is the Vrghr King novelty restaurant.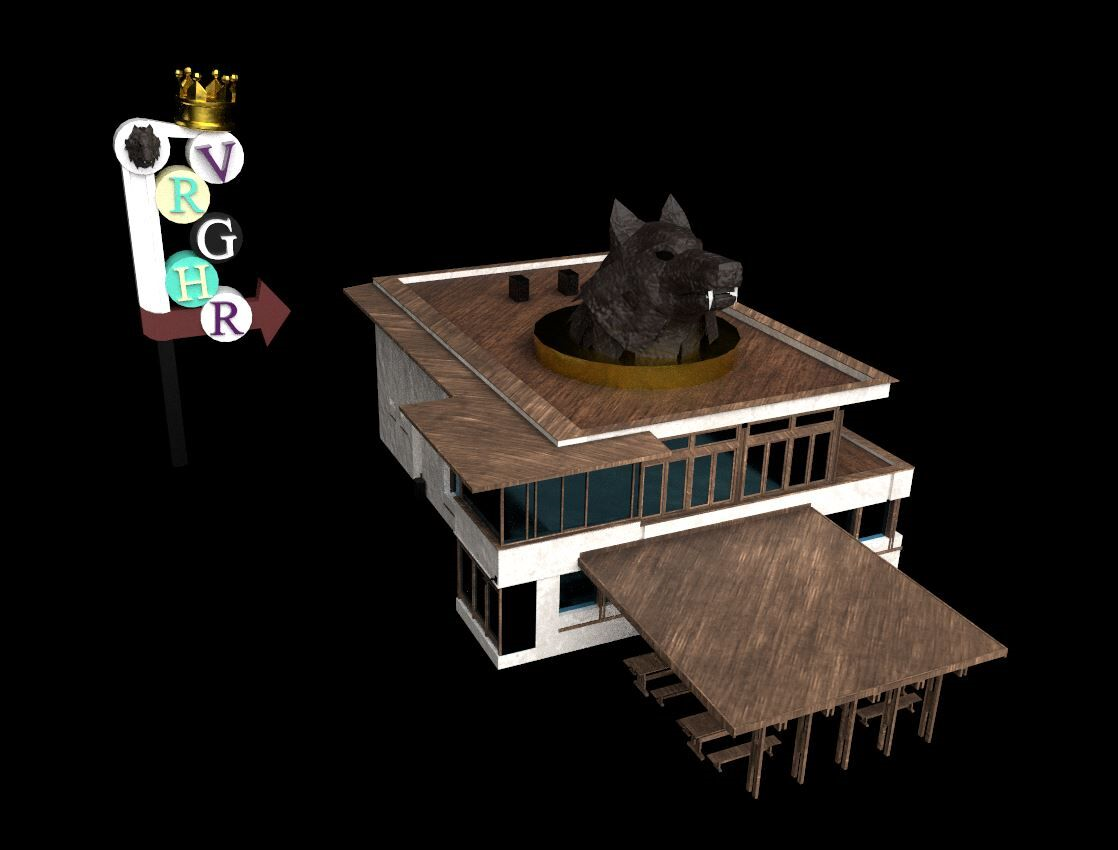 Down by the boardwalk on Titan City's shoreline there are still some old institutions like the Vrghr King that remind us of the good old
days in seaside Titan City. The restaurant is very hard to miss with its gargantuan wolf's head statue coming out of the rooftop, and
classic wolf and crown neon sign that has been lighting up Titan City's beach boardwalk since the 1960's.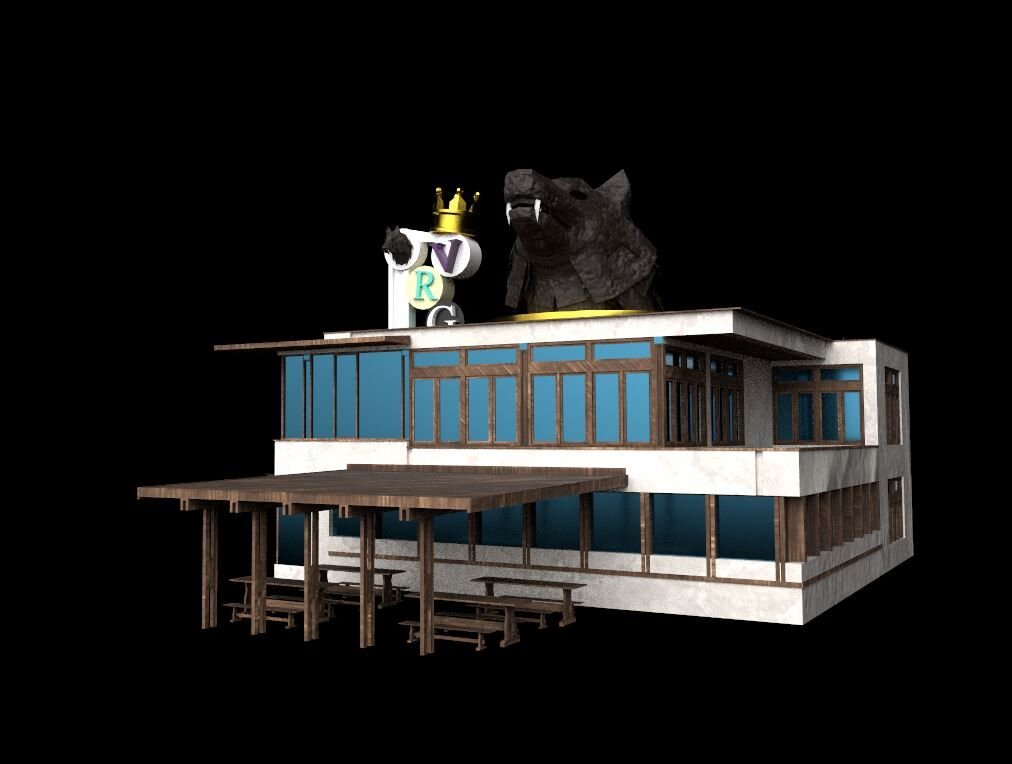 Come hungry at any time of the day, sit out on one of the park benches in the patio dining in front of the restaurant, and gorge yourself
on a half-pound wolf burger, chili fries, and hush puppy Southern Specials - no actual wolf meat is used!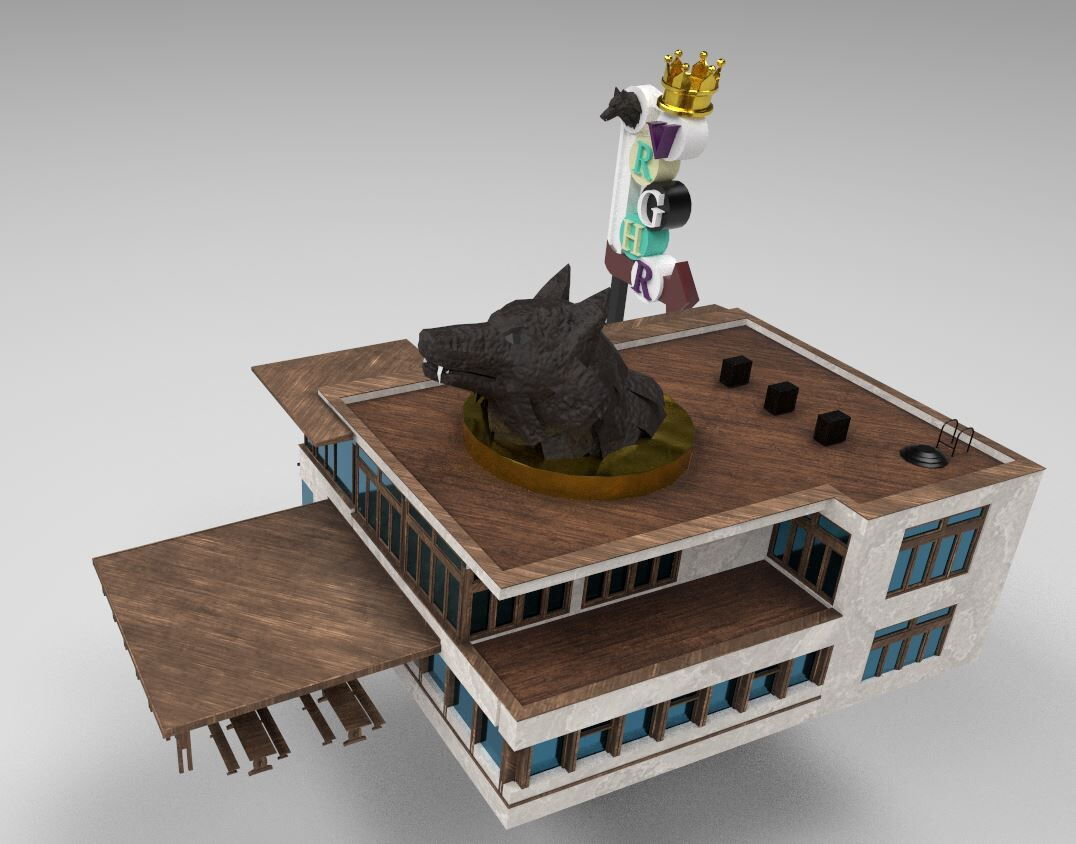 Body Canvas Tats by Tazi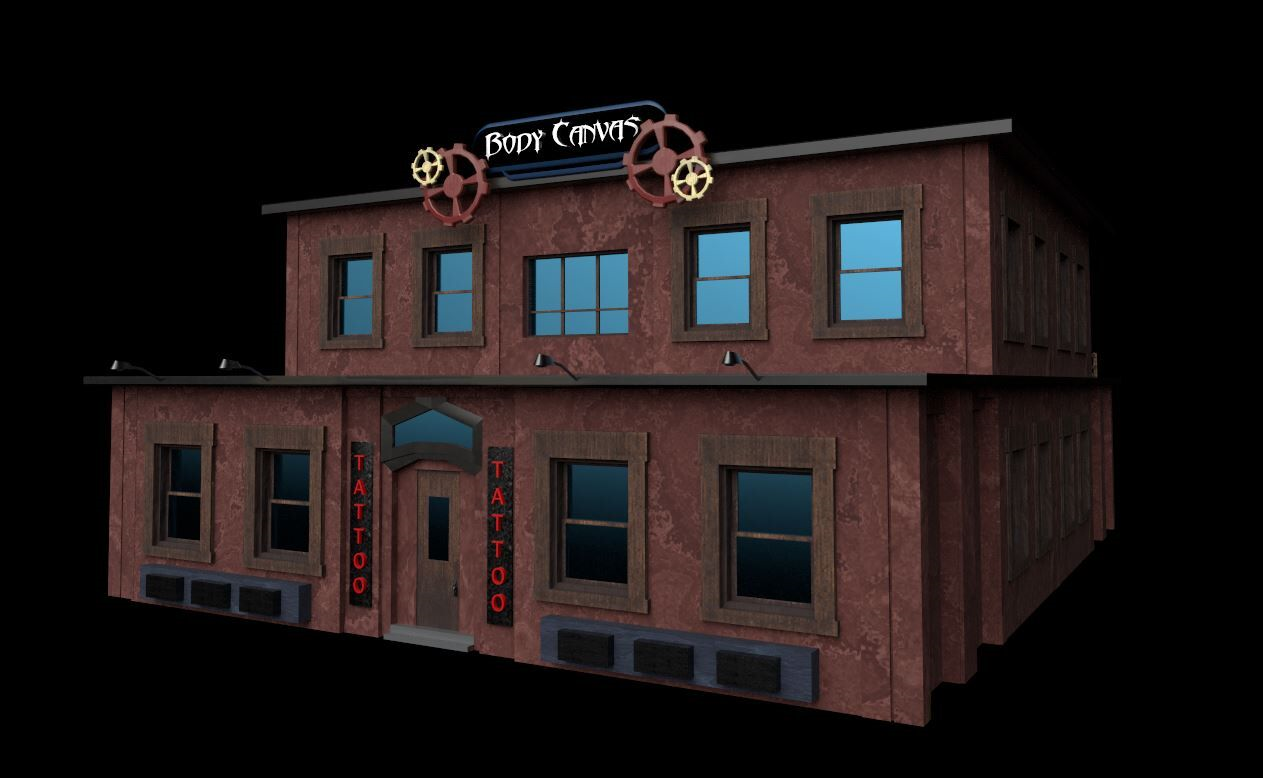 Tats by Tazi, Pretty in Ink specials and tattoos served up daily in a seedier part of the Old Bradford neighborhood of Firetown. This old
school tattoo parlour specializes in steampunk designs and can be found just outside Victory Beach. It has a comfy apartment above the
parlour where Tazi and friends hang out before hitting the streets!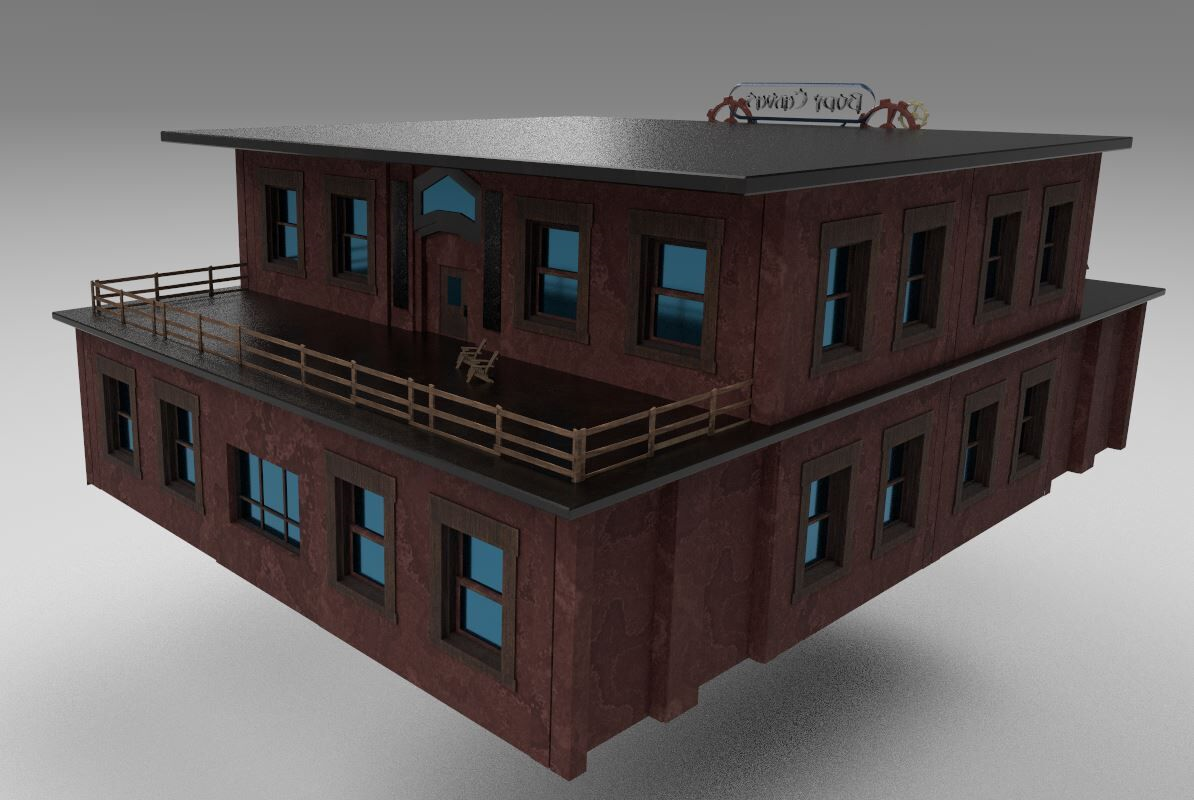 We shared this mogul in our January update, but wanted to show where it will be on the map so heroes and villains can know where to
go to get their next tattoo!
Sapphire's 24-hour organic cafe: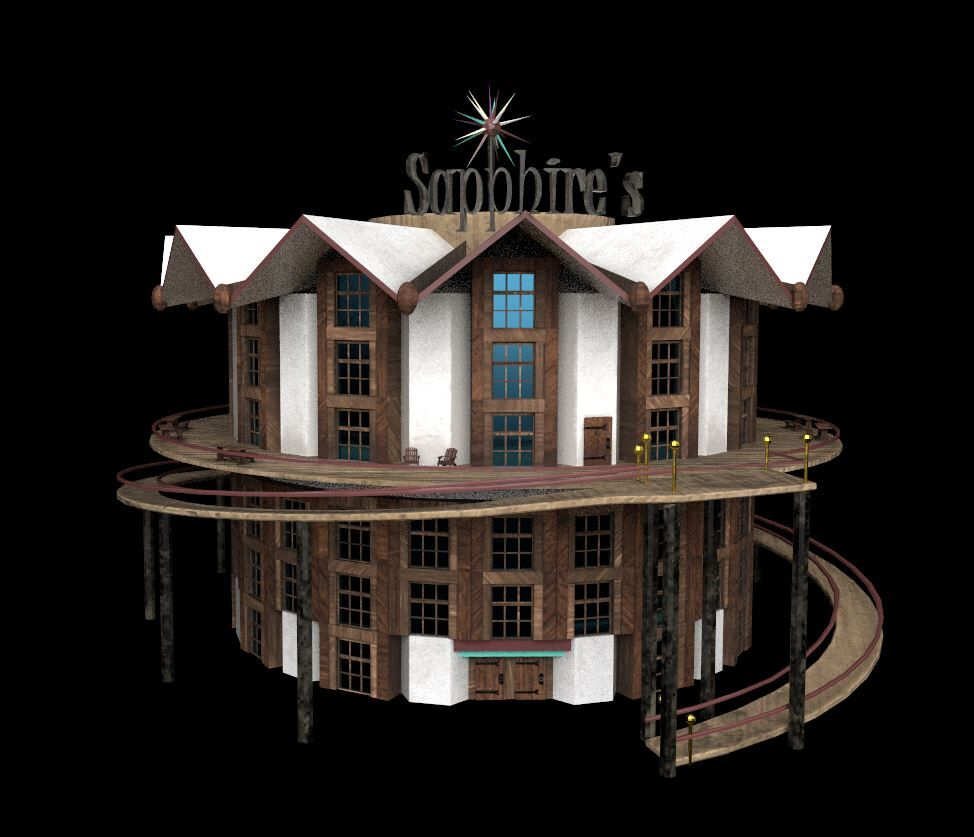 From Sapphire's menu: "Titan City's favorite late-night culinary hotspot features all-organic, humanely-sourced meals. Cooked with
locally-sourced ingredients, every item will satisfy even the darkest of villains. So much tasty-goodness with plenty of Gluten-Free
options! All-day Happy Hour, and special discount for customers in plant-based costumes!"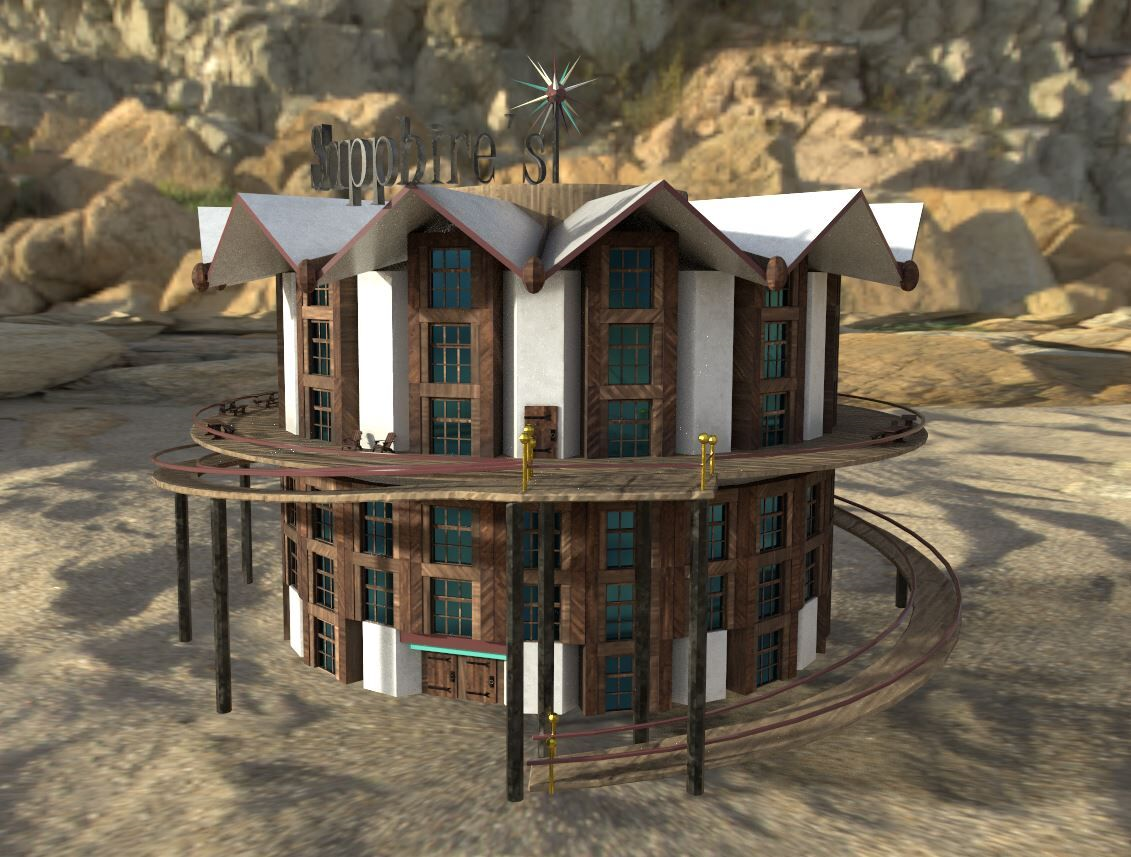 Most people think of Sapphire's as a late-night hotspot because it's open 24 hours, but don't forget its great outdoor patio for watching
sunsets at the beach. And all Titan City residents are welcome at this historic cafe which has an old circular ramp sturdy enough for super
speedsters, but also ADA compliant.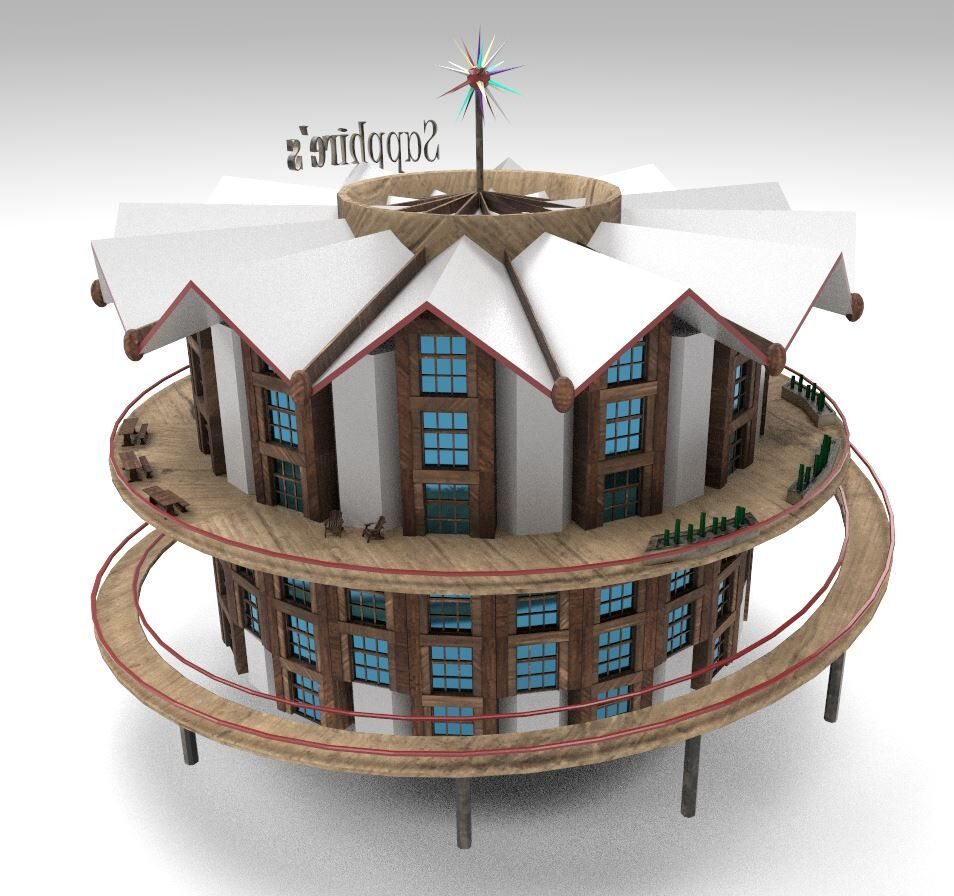 Make sure to check out the back-side of Sapphire's terrace where you can see the herb garden for the café's home-grown, organic
ingredients. (And any villain who tries to mess with those plants will be smacked down by some ancient Celtic incantations… so
beware!)
B.L.O.K. Comics
B.L.O.K. Comics is another mogul to be placed in the Old Bradford neighborhood in the Theatre District closer to the Downtown
border. This art deco institution has been a fan favorite in Titan City since the Silver Age of comics!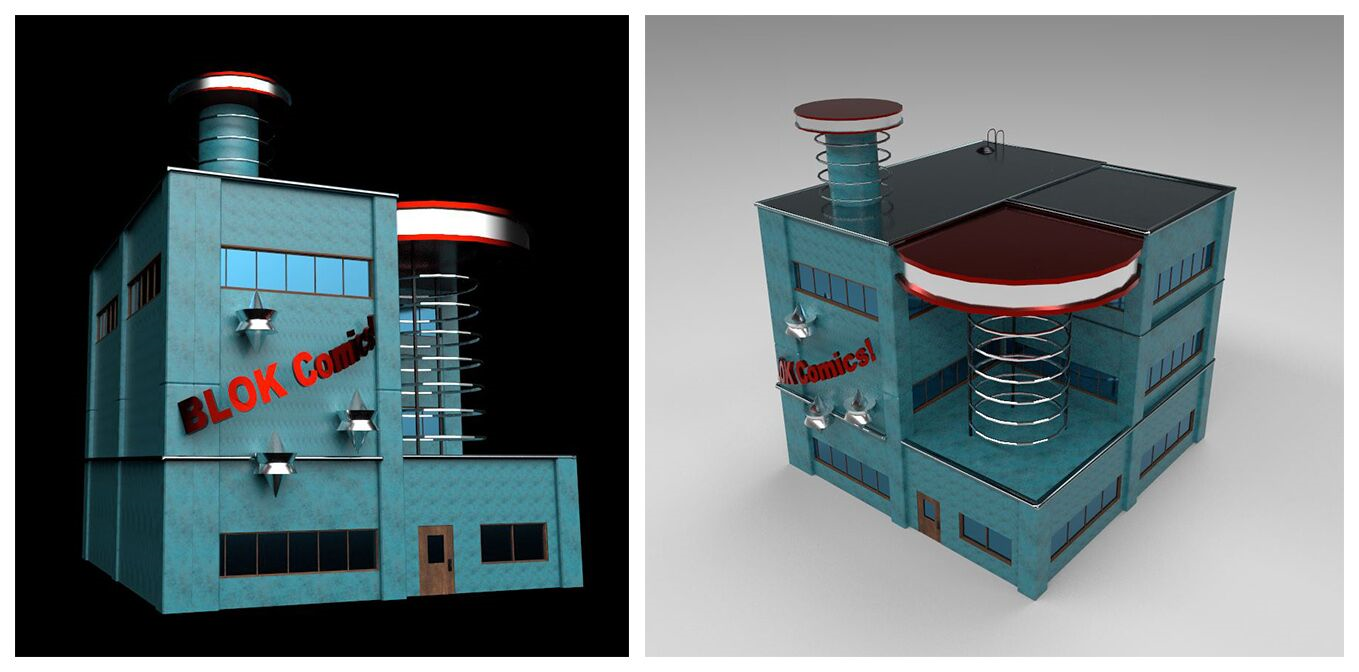 We shared BLOK Comics with you in January, but now you know where on the map to find your favorite comics in Titan City!
Mischief's Floating Gardens
That's not an alien spaceship landed in secluded Byrne park - it's Mischief's Floating Gardens! (And secret lair, for those who know
what Mischief is up to at this location.)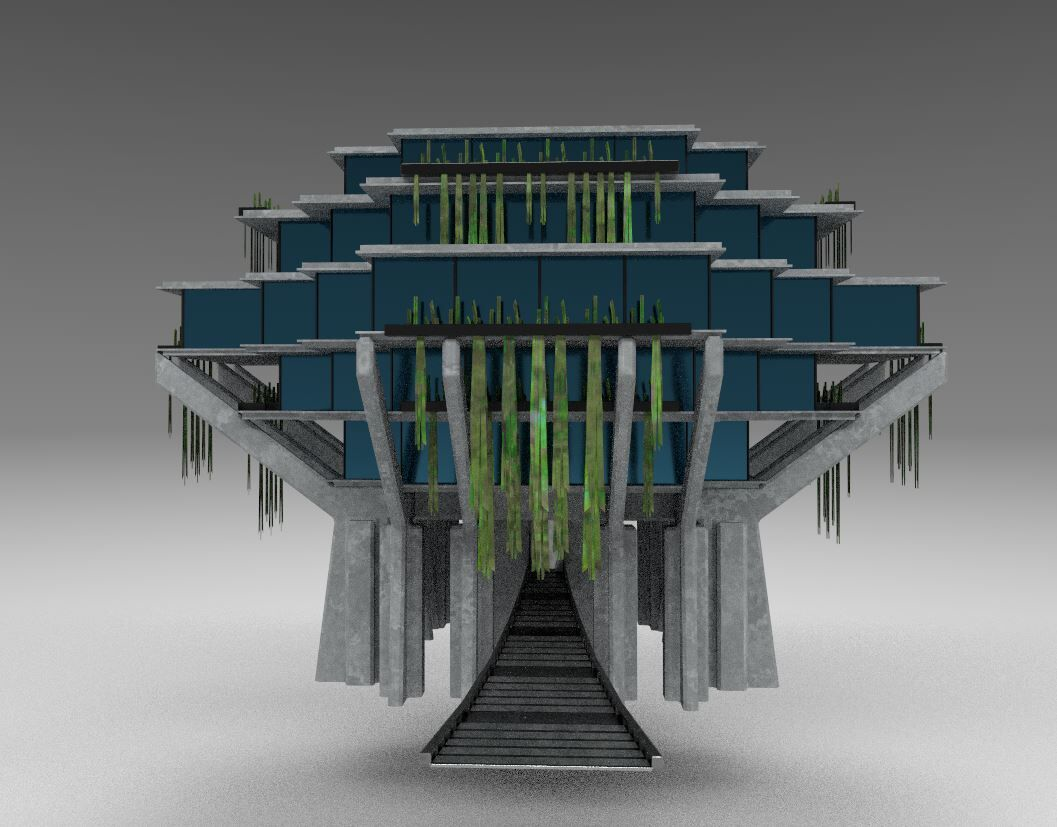 The environment surrounding this mogul will be very important to the final look of the structure. When you visit Byrne Park, rising out of
the lake you will see part of the structure floating in the gardens. Hidden in the structure will be a secret, underwater lair!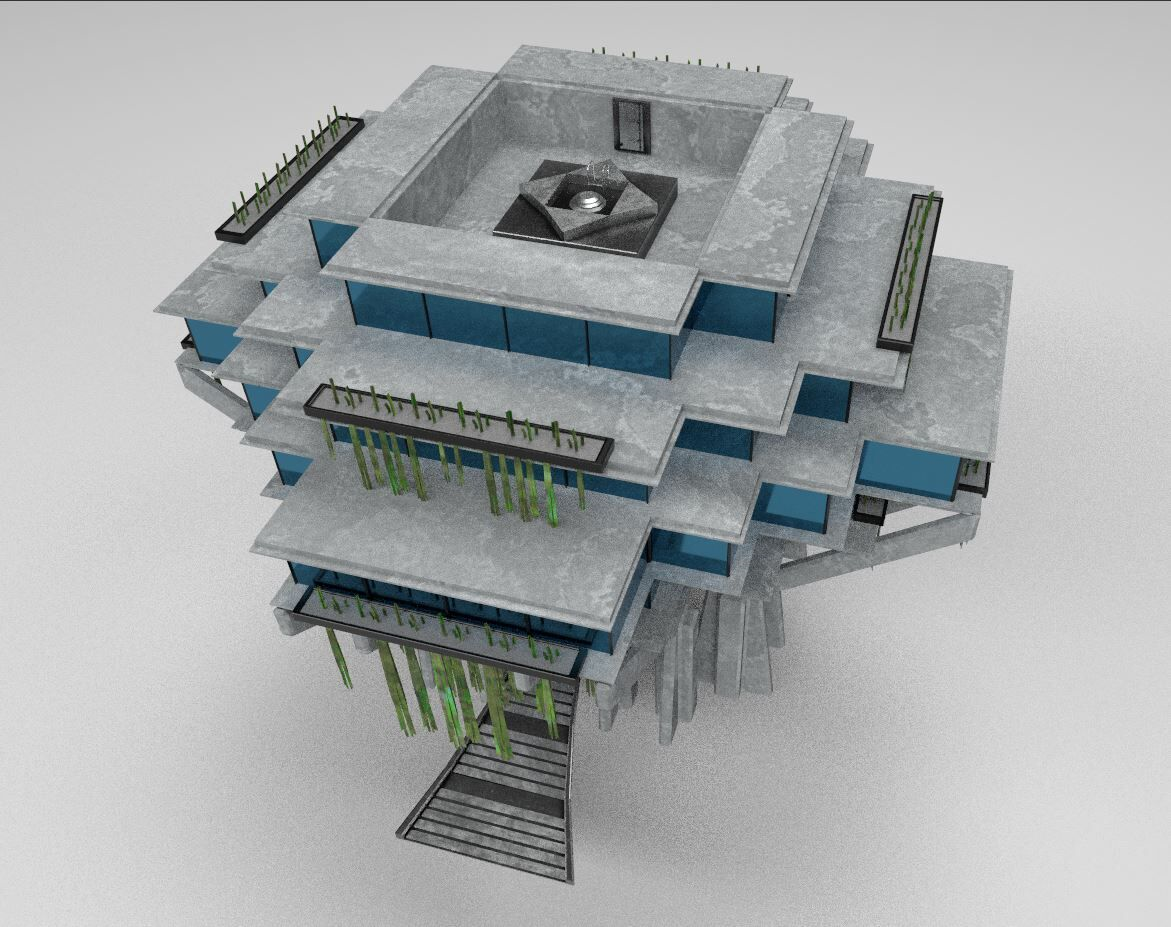 This brutalist concrete architecture will be overflowing with plants and make for an extraordinary secret discovery spot to explore!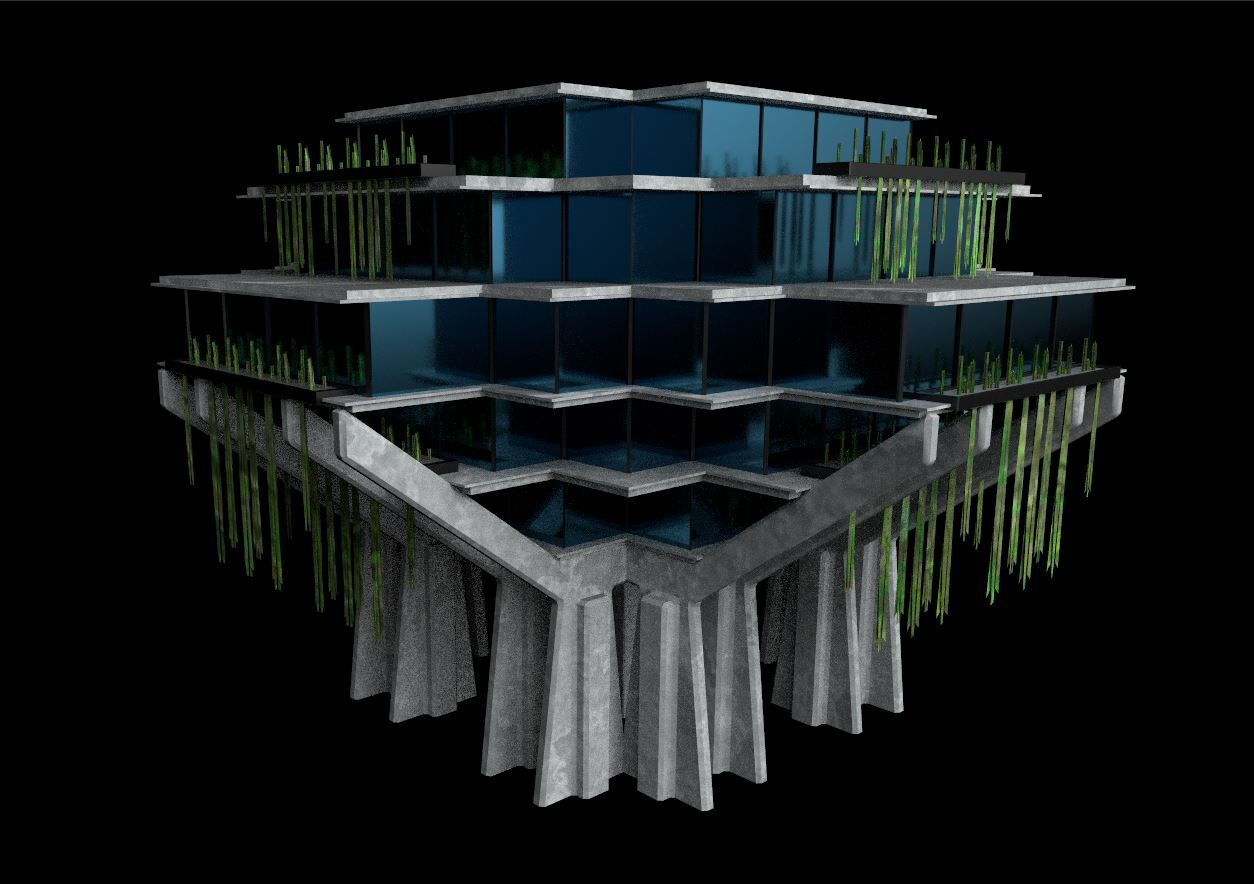 If you happen to see Mischief, there is an entry at the top of the structure, and one down at the bottom / center that leads into the
underwater lair. You will have to ask Mischief for more details on what is happening inside this top-secret fortress...
Wicked's Reprieve: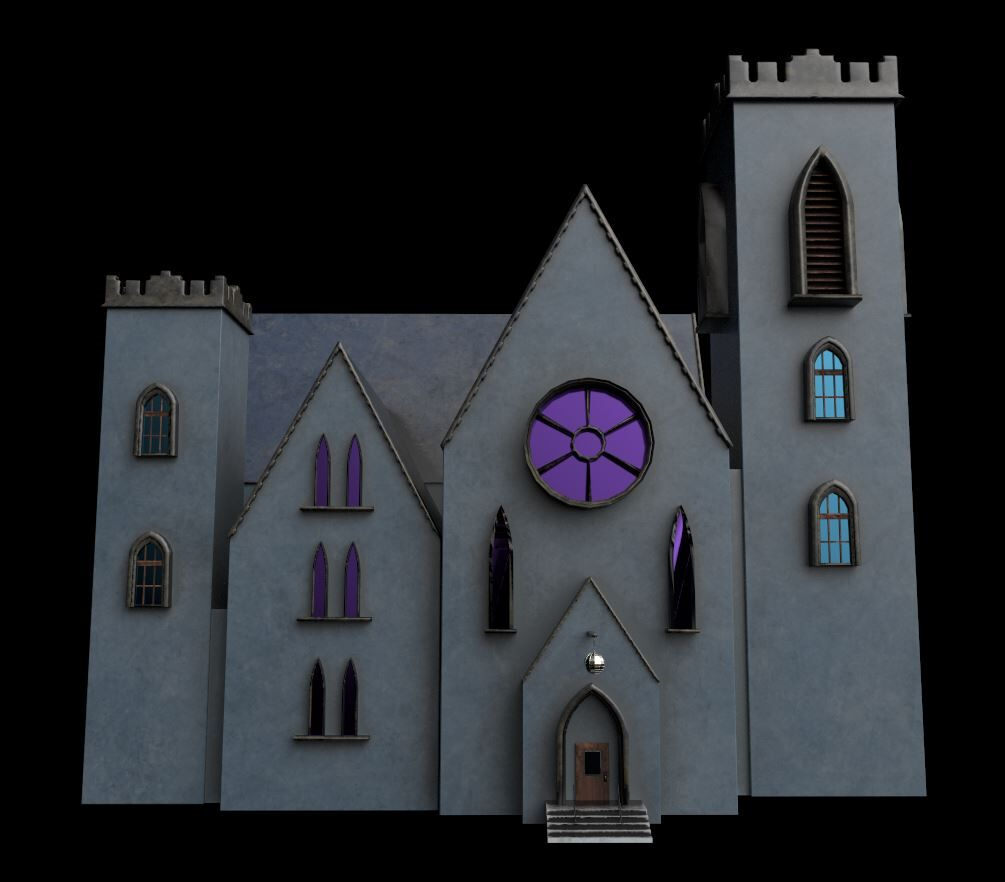 Wicked's Reprieve is housed in an old stone cathedral typical of architecture built on the East Coast of the U.S.A. The building features
a classic style with stained glass windows, gothic spires, and towers. But the interior utilizes modern effects to set the atmosphere on fire
with an amazing dance club.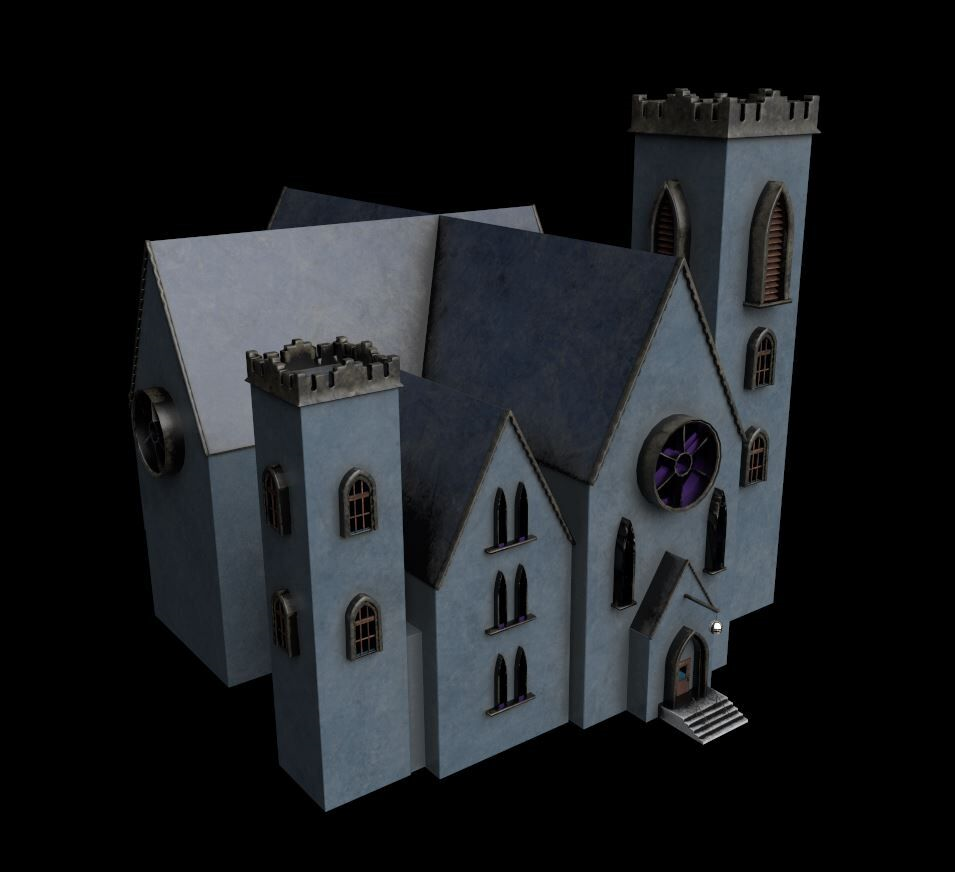 This club is known internationally to a circuit of party goers who chase the latest DJs around the globe. They dance all night long
throughout the year at this beloved venue.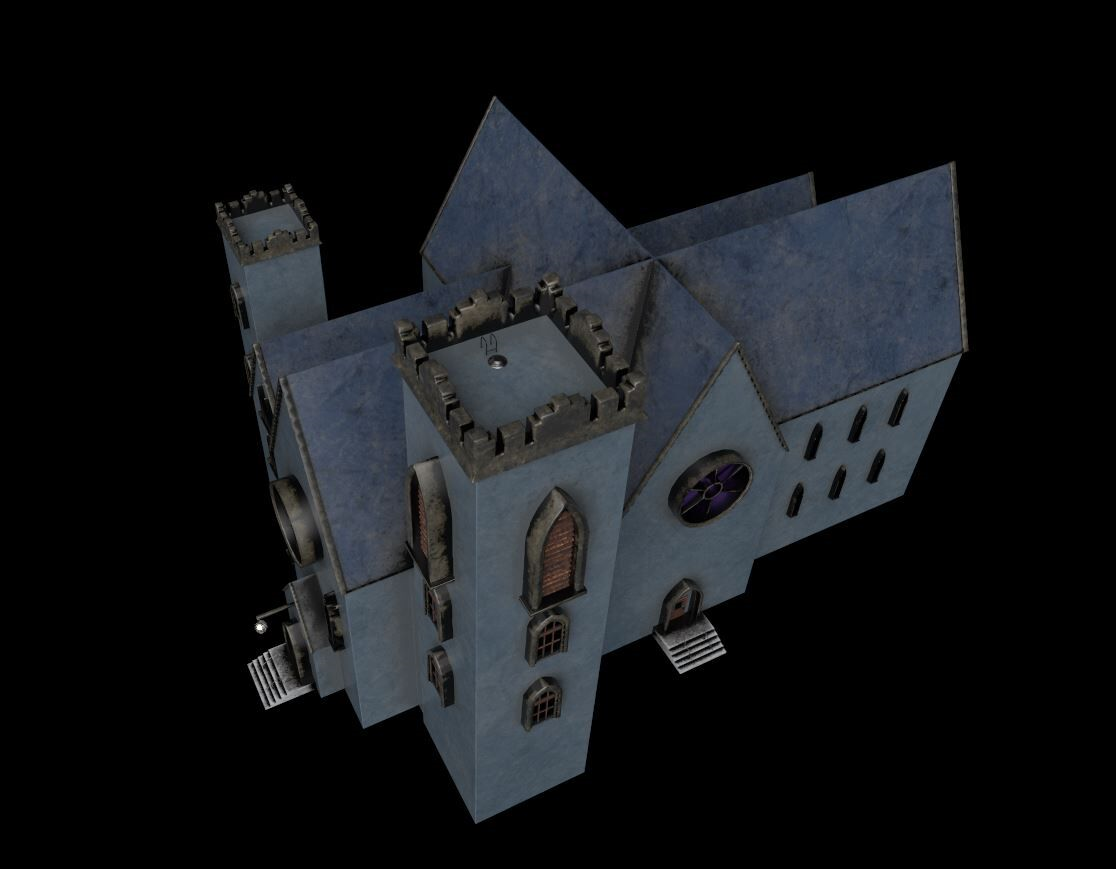 Wicked's Reprieve is an underground club, not obvious to the bridge and tunnel crowd that it's a party space, but anyone who passes
the building will see its signature disco ball hanging from the front entrance and likely conclude it's more than a church. If you see people
dancing on the tower rooftops, ask them if you can get a VIP pass from Wicked to come join the party!
The Timetable club: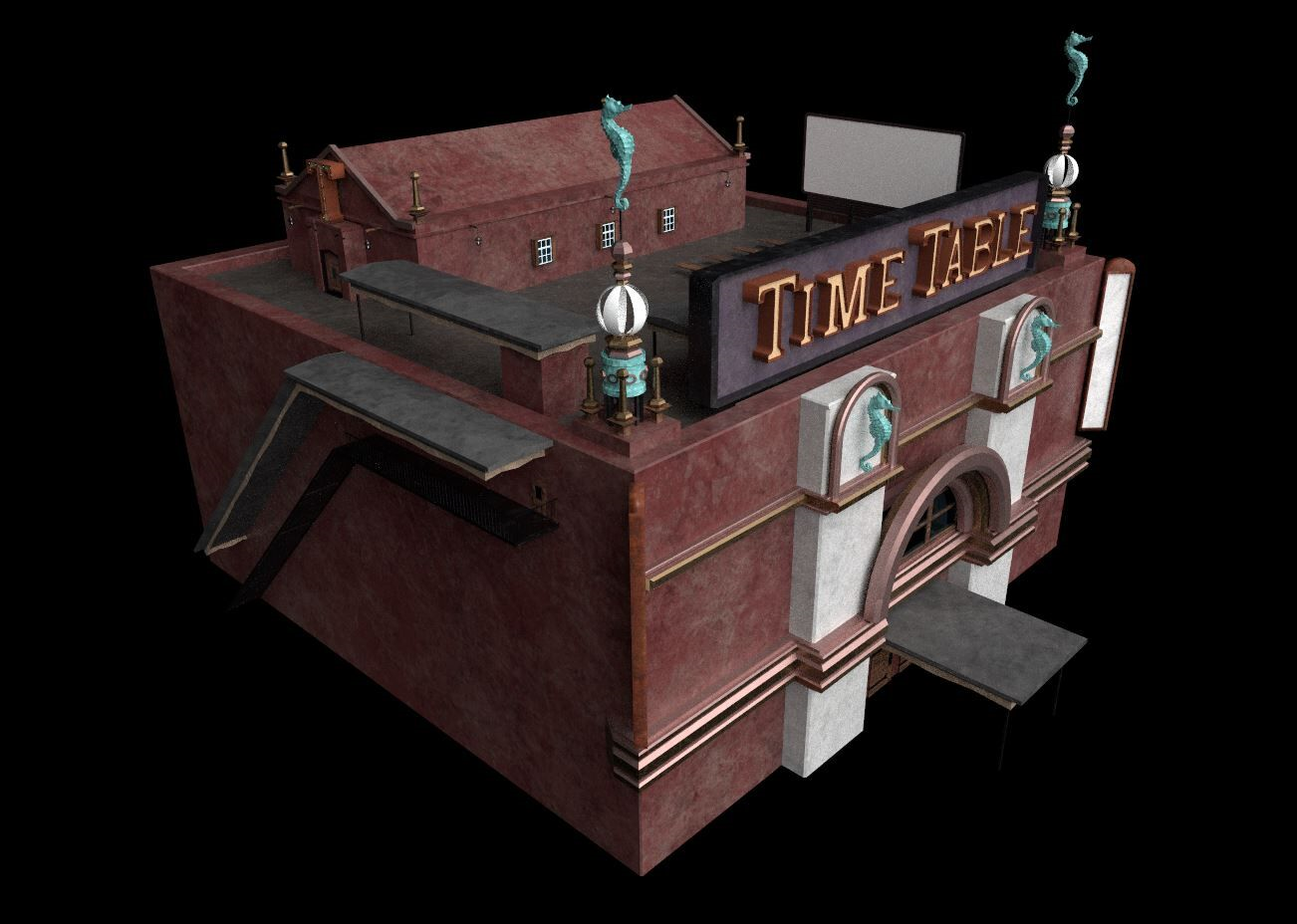 Heading to the far west side of Old Bradford you will find another important Titan City institution: The Timetable club.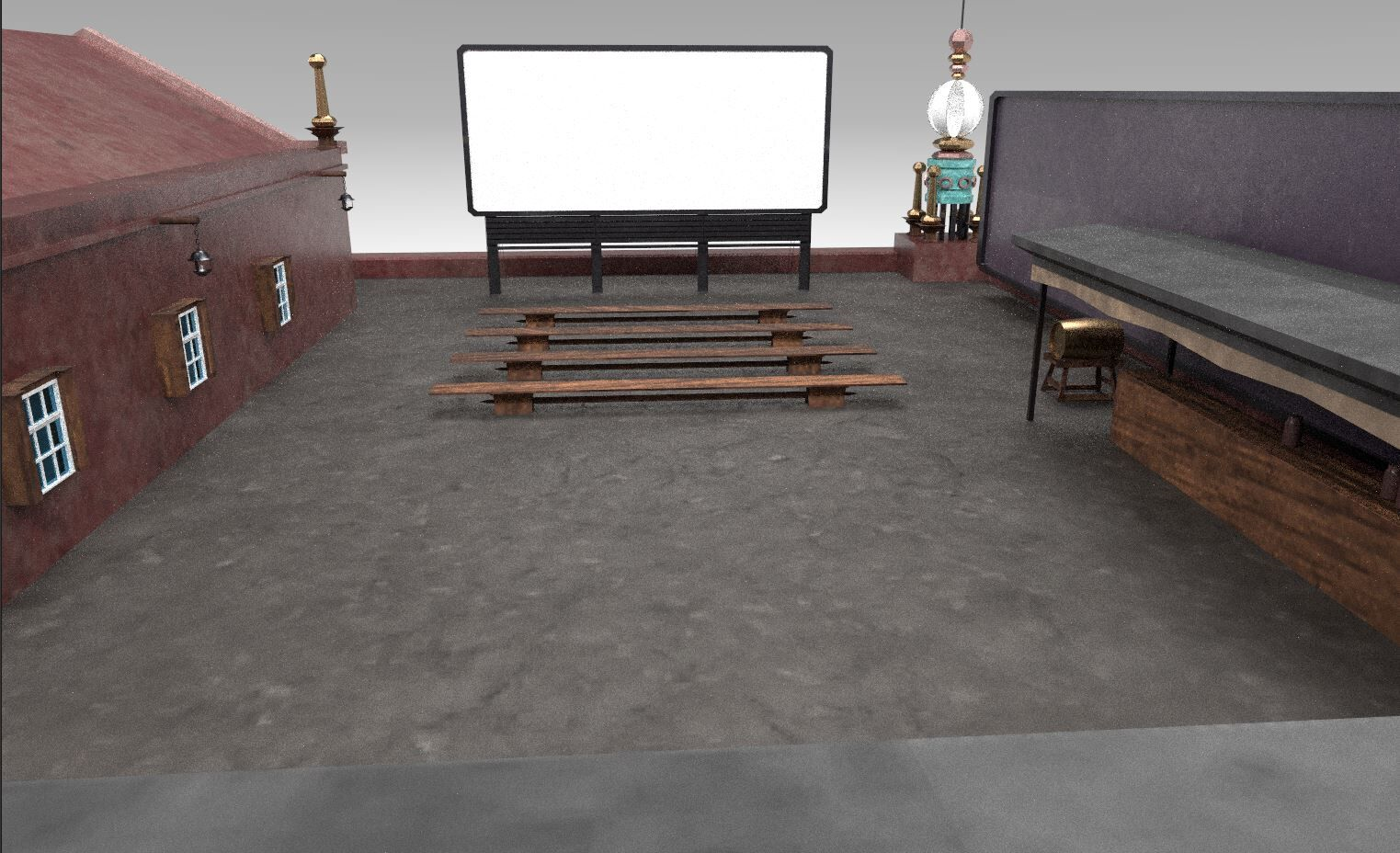 Sitting right next to the subway station in the Theatre District, the Timetable is a historic bar, restaurant and nightclub, with three stories
of dance and live performance spaces on the inside, and a rooftop bar and restaurant on top with a large screen for visuals and events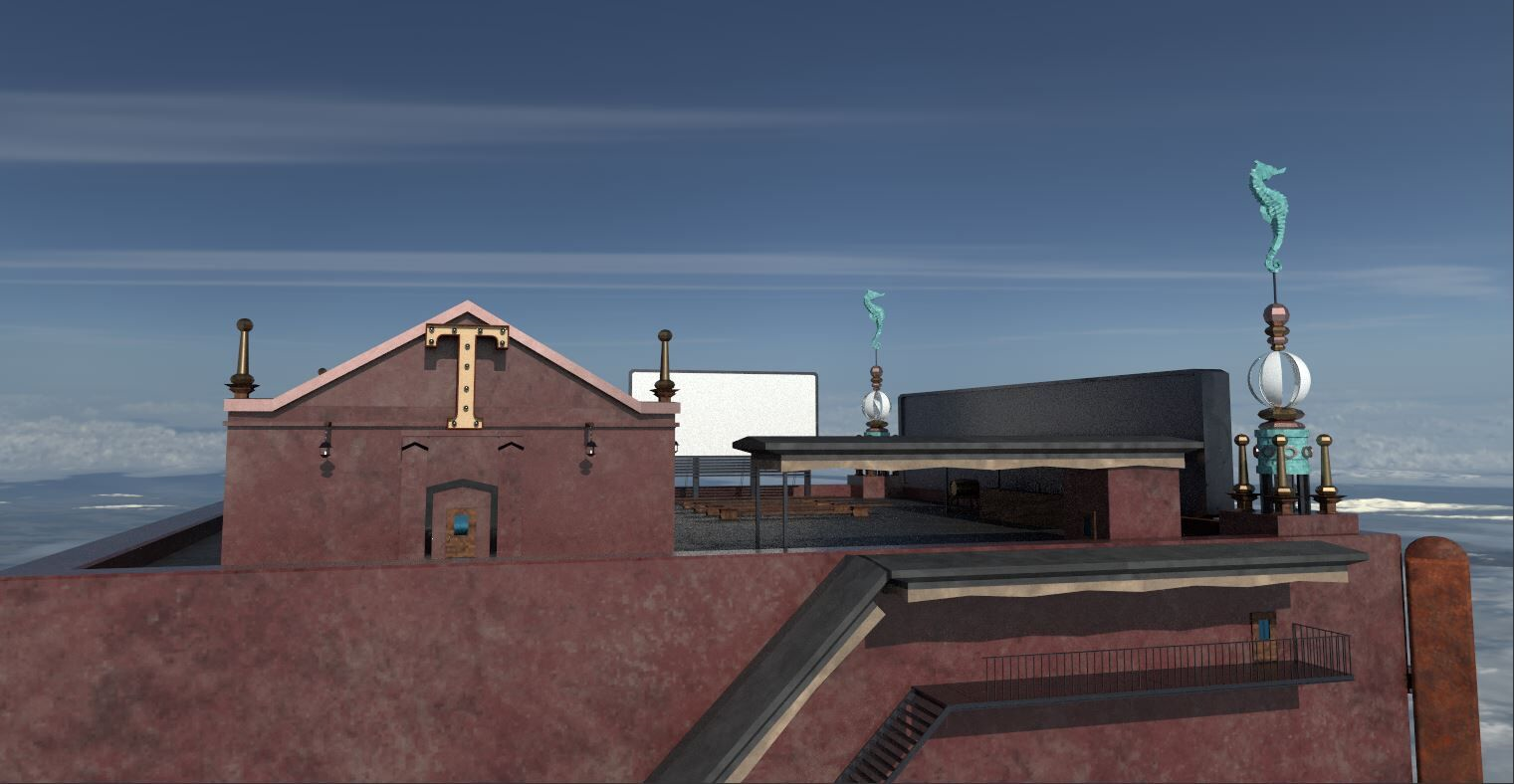 The historic space is notable not only for famous acts that have made annual stops here to play for the Titan City crowd, but also for its
signature seahorse sculptures out front, reminiscent of the old Titan City boardwalk style.

Don't miss rooftop movie night on Thursdays and Sundays when the sky is lit up by the silver screen and filled with popcorn-eating Titan
City movie-goers!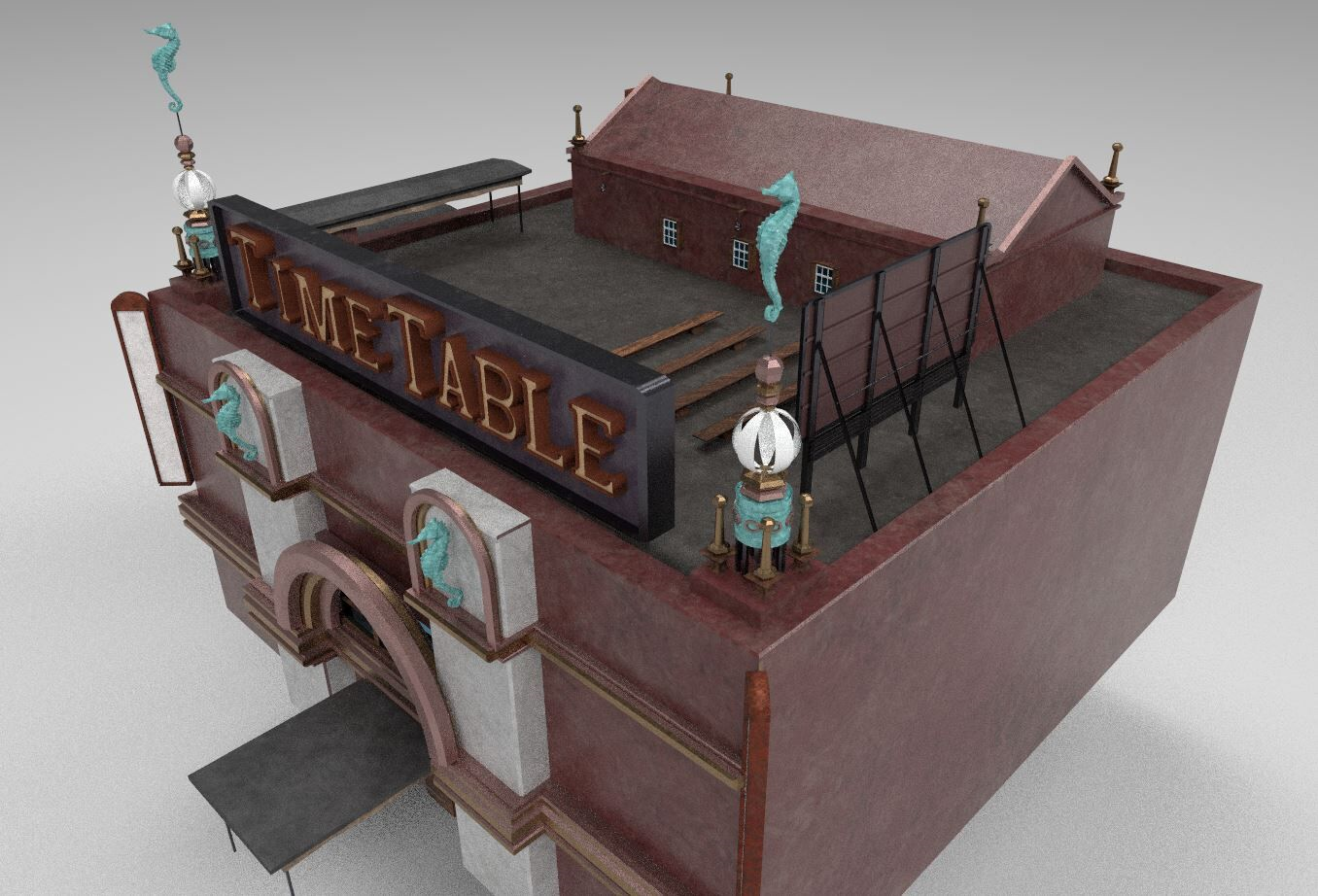 With the conclusion of our tour of Old Bradford moguls, we wanted to leave you with this thought:
After playing MMO's long enough it's likely we have all gotten the feeling that there is no "there" in the game environments. Automated
text and characters tend to limit the feeling that you are playing something with real life, history and character.
We see your creativity as a fundamental contribution to the game and we thank our Kickstarter participants for helping to build Titan
City as a unique place that supercharges all of our imagination!
---------------------------------------------------------------------------------------------------------------------------
Next week we are going to share a recap of Alexandria Landmarks and Moguls, not new work, but just giving some
mapped context like we did with Old Bradford. We hope you enjoyed these last three weeks of new work shared. And we look
forward to making lots of progress on our additional Mogul buildings in 2019!
*** Important reminder about the pictures above - these 3D models have been made in software independent of the game environment.
They are missing textures (brick, plants, billboard artwork, etc.) and lighting (neon lights, environmental lighting etc.) that will be added
later in the game. ***
Thanks go out again to Master Builder Nathan Purkiss, City Designer Carol Kirk, and all of our Mogul Backers for their excellent imaginations.
Support City of Titans at our Patreon and Read our Comic: https://www.patreon.com/HiJinx
Enjoy our Instagram! https://www.instagram.com/missingworldsmedia/
Why not buy us a Ko-Fi? https://ko-fi.com/Z8Z06NFG
We have a Facebook: https://www.facebook.com/CityOfTitansmmo
And a Twitter: https://twitter.com/CityOfTitansMMO/
Comment on this update: https://cityoftitans.com/forum/discuss-where-we-stand-more-moguls-3