This week, we thought we would share a snapshot of combat testing mechanics, just for a glimpse at work being done. We don't always have the opportunity to show screen shots of this 'under the hood' type of technical testing, but this is a chance to see a little bit of what's happening.
In the picture below, what you are seeing is a preliminary user interface for our combat testing setup.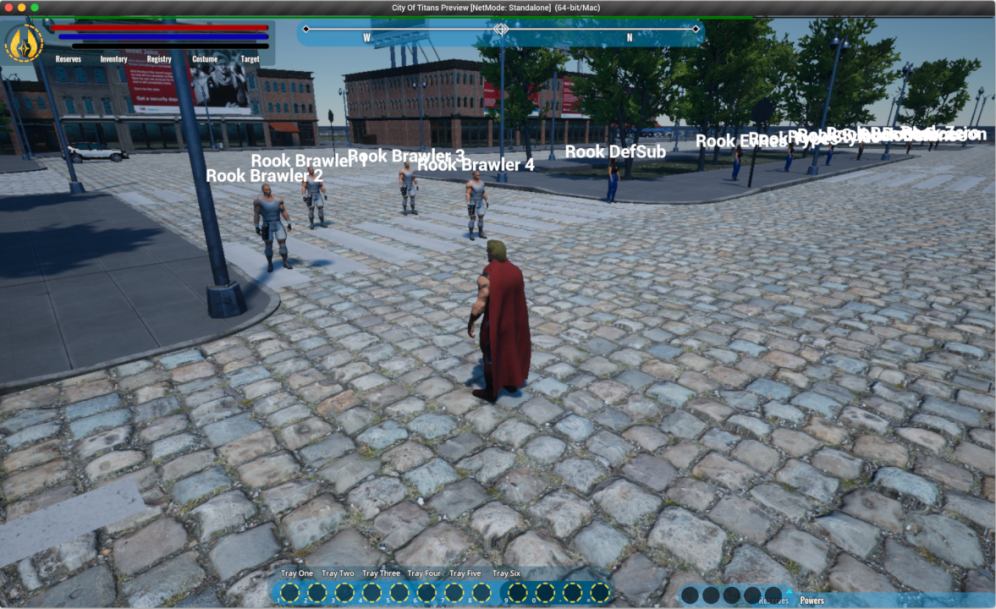 "You guys wanted to say something?"
Standing across from the player character are a group of Rook Brawlers who are serving as test dummies to analyze different aspects of combat behavior. The Rook Brawlers will eventually be used to test combat NPC artificial intelligence and other interactive features.
We are deep in the work of testing powers, looking at hit rolls to make sure attacks are working, as well as testing each type of buff, debuff, and control functions to see how they interact with buffs and debuffs. And importantly, we are testing our targeting system for melee, ranged, area effect and locations to make sure they work. This is just a glimpse at one part of the work. Much more will be coming in the months ahead.
Thanks for taking a quick look under the hood with us, and a special thanks go out to Tannim222, AmiEvil and Iathor for their ongoing work on combat testing for City of Titans!
See you all in our next update!
Feel free to discuss this patch update here: https://cityoftitans.com/forum/discuss-under-hood-target-test-dummies
OR on our Discord! : https://discord.gg/w6Tpkp2
Support City of Titans at our Patreon and Read our Comic: https://www.patreon.com/HiJinx
Enjoy our Instagram! https://www.instagram.com/missingworldsmedia/
Why not buy us a Ko-Fi? https://ko-fi.com/Z8Z06NFG
We have a Facebook: https://www.facebook.com/CityOfTitansmmo
And a Twitter: https://twitter.com/CityOfTitansMMO/
And find us on reddit at: https://www.reddit.com/r/cityoftitans/?utm_medium=android_app&utm_source=share