City of Titans Chargen: Next month's update is all about it.
---
One of our Titans of concept art, Kayla Bianchi, has contributed a lot to both costume design and interior mission maps. Today we got her to answer some questions and provide some samples of her work.
What part of City of Titans do you work on?
I have worked on several different projects for City of Titans, but primarily I do concept art and level design.
I first started designing NPC faction logos such as Anarchy Red and Apokalyptykult. I then later started doing the various in game business logos before moving on the costume design and character concepts.
Along with the art side of things, I also have started doing various level designs such as indoor spaces and offices.
If you could choose one goofy or unusual thing to be put into City of Titans what would it be?
We have done a lot of testing with ragdoll physics and even though it might be too straining on the servers, it cracks me up. I can't even tell you how I love running full speed and then ragdolling into a building. If it is viable to leave in City of Titans in someway, I would be happy and laughing all the time.
What is your background when it comes to your position in Missing Worlds Media.
When it comes to my background, I have done almost anything with a computer I can. I graduated with my AAS in Game Development which consisted of knowing various types of design and programming languages. Even before that however I was still working on games. I have done smaller side projects for independent developers before being taken on by Missing World Media. It has been an honor to work with such a great team.
What is your inspiration for wanting to be part of Missing Worlds Media and City of Titans?
I myself am a huge MMO fan and have always loved the ideas of superheroes and villains. When I saw City of Titans, I knew I could bring something to the table to help out the team. It was inspiring to see how people from all over could unite under a single vision with so much fan support. I knew I wanted to be apart of it and every day I work with wonderful people to make City of Titans a reality.
Without asking, would the rest of the Missing Worlds Media staff consider you a hero or a villain?
I think that the team would say I am a hero. I have a very relaxed personality and always get along well with everyone I work with so it seems the obvious choice. They would be right. I plan to play hero in the game and help save the city with my amazing fire powers.
What was the first game that you played that had a lasting impact on you and why?
There are several games that have changed my life and added a lot of perspective to it. I mean I started with Doom and I think almost everyone can say that game was revolutionary and set the stage for the FPS genre. The first time I ever got lost in a game and felt like I was part of it though, was playing a little game called Pokemon Red version on my gameboy. That is when I saw what games could be. I knew from that point on that I wanted to be apart of this industry and make worlds where people could get lost in them just like I did.
Would you consider yourself a geek or a nerd?
Oh of course. I think you would be hard pressed to find someone that works on something like this that isn't. I am big into all types of gaming modern and retro. I try to keep up with everything gaming but that's not the only nerdy thing I indulge in. I am also pretty big into anime of all genres such as Dragonball Z and way too many others to name. I think being a nerd offers a lot of insight and inspiration from other mediums into our own and that only helps create even better things for the fans. So everyone should be a nerd about something.
Sonic Screwdriver or Lightsaber?
While I respect both respective series, Lightsaber all the way. There is something about finding the crystals and going through the trials to earn your own weapon. It's a magical journey that I grew up with. And call it cliche but I would be a Jedi Knight. I love the Jedi order.
What are the essential tools of your trade?
I couldn't make it through the day without Photoshop CS5. I use it for everything. Planning levels, my concept art, just making ideas or sharing pictures with the team. It is my most valuable tool. I also live on my Wacom Cintiq 12WX drawing tablet. It makes my job so much easier.
Of course I also use Unreal Engine 4 for all my level designing. It's a great engine and one of the best I have had the pleasure to use.
The last essential tool I need you might not expect. It's always there in the background motivating me and keeping the day fresh. My Spotify account. Music is a great tool to help work move along.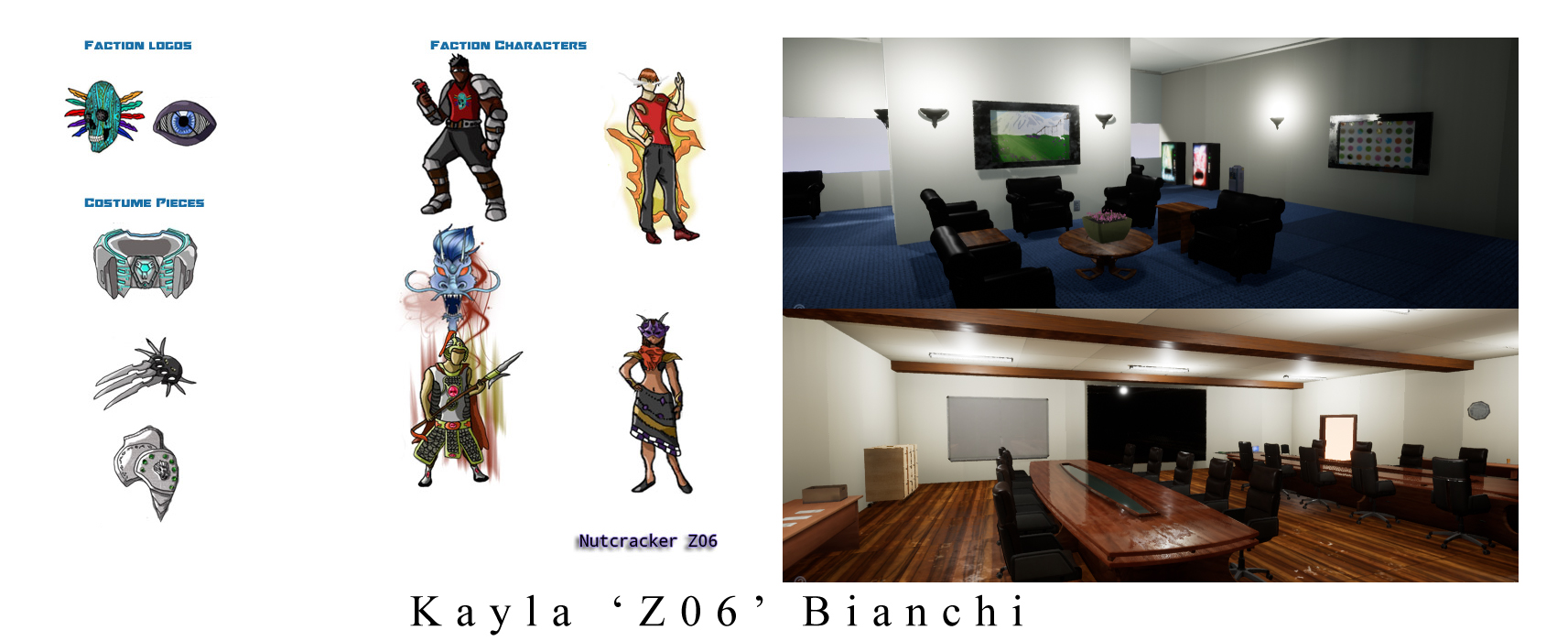 ---
Thanks to Kayla for answering our questions!
Support the Official City of Titans Webcomic, Hijinx!